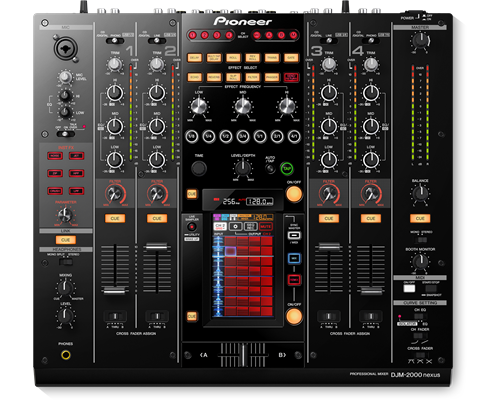 Pioneer DJM-2000NXS
$2,499.99
The DJM-2000NXS combines advanced performance features and an intuitive layout to empower unbridled creativity in the booth. A newly designed Peak Limiter eliminates distortion and clipping even at club volumes, all four channels are equipped with a Peak Level Meter so you can check your input levels at a glance.
The perfect match for our flagship CDJ-2000NXS digital decks, the DJM-2000NXS features ProDJ Link for a smooth connection, while the club-standard design – with chrome-plated knobs and white LED buttons – makes sure they can be placed side-by-side in total harmony.
KEY FEATURES:
ADVANCED CONNECTIVITY
With Pro DJ Link you can connect multiple players, turntables or laptops via LAN connection and share a single source. Combine this with rekordbox to access pre-prepared loops and cues, sync the beat with the master deck, and access a host of advanced pro-DJ features.
BEAT SLICE
Sample and slice tracks on-the-fly for spontaneous creativity.
FREQUENCY REMIX
Choose which frequencies are in the mix with a 7-band touch cross fader.
SIDE CHAIN REMIX
Borrowed from the groundbreaking RMX-1000 remix station, Side Chain Remix delivers louder side chain oscillators and multiple effect chaining.
USB AUDIO INTERFACE
Connect via USB to play tracks from your PC/Mac without an external soundcard. Assign a different input to each channel or output audio from the master channel to your computer for easy recording.
QUANTIZE BEAT EFFECTS
Quantize snaps Beat FX, cues and loops to the rekordbox beat grid for precision performances.
Robust faders
Our robust Magvel Faders ensure smooth control over long-term use. Two metal shafts support the fader knobs, while the contact-free magnetic system is designed to endure millions of performances
Customizable crossfader
Flexibly assign the output from each channel to the crossfader and use curve adjust to choose your preferred crossfader curve pattern.
EQ isolator on each channel
Use the 3-band EQ isolator to control the high, mid and low frequencies on each channel independently.
MIDI controller
Fully assignable MIDI functionality sends control information to external devices to be used as a MIDI controller.
Specifications
Width: 16.93 in
Height: 4.25 in
Depth: 15.91 in
Weight: 18.96 lb
Rack Mount: Yes
Frequency Range: 20 – 20,000 Hz
Sampling Rate: 96 kHz
A/D Converter: 24 bit
D/A Converter: 32 bit
S/N Ratio Line: 107 dB
S/N Ratio Phono: 93 dB
S/N Ratio Mic: 85 dB
Crosstalk Line: 82 dB
Distortion: < 0.004 %
Headroom: 19 dB
Power Consumption: 40 W
Master
Master Balance: Yes
Stereo/Mono Switch: Yes
Level Meter Size: 15 segment
Master Out Attenuator: Yes
Channels
EQ/ISO: 3 band
EQ/ISO Range: Switchable isolator: -∞ ~ +6 dB / Standard: -26 dB ~ +6 dB
Level Meter Type: Individual
Level Meter Size: 15 segment
Peak Limiter: Yes
Performance Control
Channels: 4
Sound Color FX:
Crush
HP Filter
Jet
LP Filter
Noise
Zip
Beat FX:
Delay
Echo
Filter
Gate
Multi Tap Delay
Phaser
Reverb
Reverse Roll
Roll
Slip Roll
Trans
FX Frequency: Yes
rekordbox Quantize: Yes
Performance Modes
Beat Slice:
Frequency Remix
MIDI
Side Chain Remix
Effect Sampler
3-Band Isolator: Yes
Auto BPM Counter: Yes
Beat Sampler: Yes
Direct Beat Select: Yes
Effect Level & Depth Volume: Yes
Effect Mix: Yes
Inloop Sampler: Yes
Live Sampler: Yes
MIDI Global Clock: Yes
Roll Sampler (Fwd): Yes
Roll Sampler (Reverse): Yes
Sidechain Remix Effects: Yes
Sound Processor: 32
Touch Panel: Yes
Crossfader
CURVE Assignable: Yes
Field Replaceable: Yes
Fader Curve: 3
Mic
Mic Connection: Neutrik Combo
Mic EQ: 2 band
Mic EQ Range: -12 dB ~ +12 dB
Talkover: 3 Position Switch
Talkover Attenuator: Yes
MIDI Info
Assignable Controls: Touchscreen & Interface
MIDI Out (DIN): 1 (5P DIN)
MIDI On/Off: Yes
MIDI Start/Stop: Yes
MIDI Clock: Yes
Sound card
Connection: USB
Stereo Inputs: 4
Stereo Outputs: 1
Sample Rate: 24 bit
Frequency: 96 kHz
Inputs:
1 MIC (XLR/Jack Combo)
2 PHONO (RCA)
2 RETURN (1/4 inch Jack)
4 S/PDIF Digital (RCA)
6 CD/LINE (RCA)
Outputs:
1 BOOTH (1/4 inch Jack)
1 HEADPHONE MONITOR (1/4 inch Jack)
1 REC (RCA)
1 S/PDIF Digital (RCA)
2 CONTROL (Mini-jack)
2 MASTER (XLR, RCA)
2 SEND (1/4 inch Jack)
LAN: 6
USB: 1 USB B port
Only logged in customers who have purchased this product may leave a review.