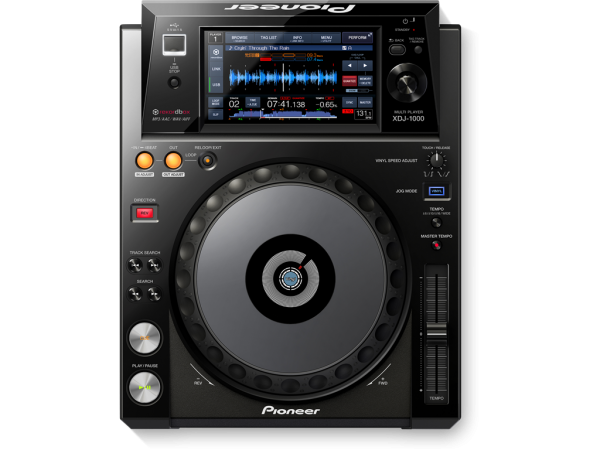 Pioneer XDJ-1000
$999.99
YOUR SPRINGBOARD FROM THE BEDROOM TO THE BOOTH.
The first of our digitally focused, rekordbox-ready players, the XDJ-1000 has a colour touch screen, a familiar club layout and a host of pro-DJ performance features – all at an affordable price. Use the free rekordbox™ software to manage and prepare your tracks on your PC or Mac – adding cues, loops and more – and use the player's host of features to be creative on-the-fly.
KEY FEATURES:
LARGE TOUCH SCREEN
The 7-inch, full-color LCD touch screen gives you instinctive control and enables the ultimate creativity. The GUI is divided into three sections so you can effortlessly see and access all the features you need.
FASTER BROWSING
Call up the Qwerty keyboard to search by keyword or use the rotary dial to browse. Plus you can choose how you view your tracks: list, artwork or custom view.
PRO-DJ FEATURES
Use Quantized Beat Jump/Loop Move to jump backwards or forwards 1, 2 or 4 beats from the current playback position, even after creating a loop.
ENHANCED TRACK INFO
The large, full-color LCD display shows all the info you need. Deeper waveform analysis with Wave Zoom, beat countdown, phase meter, track key indicator and more.
COLOR-CODED USB PORTS
When you color code your playlists in rekordbox (e.g. red for techno and blue for drum & bass), the light around the USB port will reflect that setting for ease of identification.
SLIP MODE
Keep tracks playing muted during live edits such as loop, scratch or reverse. Release the jog wheel and the track comes back at exactly the right place.
Full-size jogs
With its 206 mm jog wheels, the XDJ-1000 mirrors the layout of the club standard CDJs. So you can perfect your sets at home and move effortlessly to the booth.
Serato DJ
This unit supports USB-HID control of Serato Audio Research's Serato DJ software without using a control disk.
TRAKTOR PRO 2
This unit supports USB-HID control of Native Instruments' TRAKTOR PRO 2 DJ software, so you don't need a control disk.
Let's get digital
Simply plug in your rekordbox USB or connect your iPhone, iPod touch or Android smartphone to load tracks directly to the XDJ. Get access to a multitude of advanced performance features when preparing your tracks in rekordbox or using the rekordbox app.
MIDI controller
This device is fully MIDI assignable via USB. Send control information to external devices and use the unit as a MIDI controller.
Be prepared
Fully compatible with our free rekordbox™ music management software to help you manage your music, prepare tracks and deliver a smooth performance.
Wi-Fi Music
Wirelessly connect* to rekordbox to play your music from your PC/Mac, smartphone or tablet.
* You'll need a wired connection to a wireless LAN router (router not included).
Main Features
Plays:
AAC
AIFF
MP3 (MPEG-1 32Kbps – 320 Kbps, MPEG-4 16 Kbps – 160 Kbps)
WAV
MIDI Control: Yes
ProDJ Link: Yes
KUVO ready: Yes
Auto Standby: Yes
rekordbox: Yes
Included Accessories
Power cord
LAN cable
Audio cable
Control cable
Manual
Specifications
Width
12.01 in
Height
4.33 in
Depth
15.06 in
Weight
7.28 lb
Frequency Range
4 – 20,000 Hz
Signal-to-Noise Ratio
> 115 dB (JEITA)
Distortion
< 0.003 % (JEITA)
Audio Output Level
2.0 Vrms (1 kHz, 0 dB)
Power Consumption
21 W
Display
Display: 7-inch, full-colour LCD touchscreen
Playing Address: Yes
Wave Zoom Display: Yes
Phase Meter: Yes
Beat Counter:Yes
On Jog Display: Yes
Performance Control
Jog Dial size: 8.11 in
Jog Dial type: Touch sensitive
Jog Modes: CDJ / Vinyl Mode
Hot Cue: Yes
Hot Loop: Yes
Active Loop: Yes
Auto Beat Loop: Yes
Beat Jump / Loop move: Yes
Reloop: Yes
Real Time Seamless Loop: Yes
Loop Adjust: In / Out Adjust
Slip Mode: Yes
Beat Sync: Yes
Reverse: Yes
Pitch Bend: Yes
Fader Start / Back Cue start: Yes
Scratch Play / Cue: Yes
Quick Scratch: After searching track
Relay Play: Yes
Frame Search: 1/75 s
Needle Search / Needle Drop: Yes
Vinyl Speed Adjust: Yes
Cue Functions
Auto Cue: Yes
Manual Cue: Yes
Real Time Cue: Yes
Cue point sampler: Yes
Cue Loop Memory: Yes
Tempo
Master Tempo: Yes
Tempo Control steps:
0.02 % at +/-6 %
0.05 % at +/- 10 % & 16 %
0.5 % at WIDE
Tempo Control Ranges (MP3):
+/-10 %
+/-16 %
+/-6 %
+/-100 % WIDE
BPM Counter: Yes
Terminals
Audio Sources:
Computers (Mac/Windows PC)
iPhone/iPod touch
Android smartphones/Android tablets
USB storage devices (flash memory/HDD, etc.)
Outputs:
1 ANALOGUE (RCA)
1 CONTROL (Mini-jack)
LAN
1 (100Base-TX)

USB:
1 USB A port
1 USB B port
Only logged in customers who have purchased this product may leave a review.